Providing Quality Service at Affordable Prices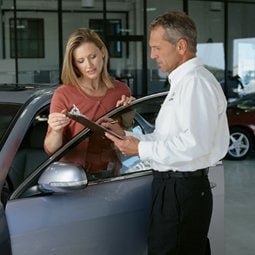 At Sarasota Ford, we know cars and trucks. Each member of our dealership's team is knowledgeable, experienced and enthusiastic about helping you find the best car or truck to meet your needs or helping you take care of your current vehicle. Our goal is to not only meet but to exceed your expectations.
We Offer a Variety of Maintenance and Repair Services
We employ a team of highly trained and qualified service technicians to ensure your vehicle is safe for you to drive. Whether you need a regular maintenance appointment, or you think your car needs a repair, we discuss your needs and help you find a solution that fits within your schedule and your budget. We perform a variety of services.
Oil changes
Tire rotations
Air filters
Headlight and turn signal replacement
Brake repair and replacement
And much more
We service both new and used vehicles and take care to provide certified replacement parts that ensure your vehicle is in excellent working order.
Schedule Service Today
Is your vehicle in need of maintenance or an emergency repair? We can help! Get in touch with the professionals at Sarasota Ford today by calling us at 888-349-4989 or click the schedule service now tab below to schedule your service. We look forward to working with you!