Get the Parts You Need to Keep Your Car on the Road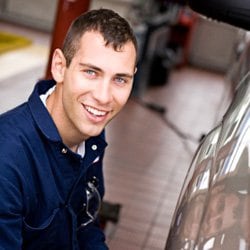 Sarasota Ford sells some of the best new and certified pre-owned Fords on the road, but we don't stop there. We also offer high-quality vehicle service and a well-stocked parts department. Our service technicians and parts experts are friendly, experienced and always ready to help you find what you need.
Choosing Parts for Your Vehicle
Finding parts for your vehicle is a breeze when you come to us. If you need new vehicle parts, we'll help you find genuine OEM parts that meet your car's make and model. Are you hoping to save a few bucks? We can help you with that, too. Our large inventory of high-quality used vehicle parts includes slightly used parts that are still in excellent working order. We also sometimes offer parts specials. If we don't already have the part you need on hand, don't worry. We have an extensive network that makes it easy for us to order what you need and get it to our shop quickly and efficiently.
Get Started Today
If you know what your vehicle needs to run smoothly again, all you need to do is call us or fill out our parts request form. Are you unsure of which parts best meet your car's needs? Our highly experienced parts specialists can help you find exactly what you're looking for. Get in touch with us at Sarasota Ford to start the process today.