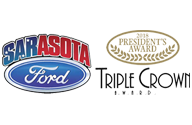 Press Release
Sarasota, FL | November 29, 2019
Sarasota Ford Earns Ford's Highest Honor
Dealership stands out as a top 35 dealership among 3,000+ nationwide
The Ford Motor Company recently announced that Sarasota Ford, an automotive dealership in Sarasota, Florida, has earned the automobile manufacturer's top honor - the prestigious"Ford Triple Crown Award".
In order to qualify for the "Ford Triple Crown Award", a dealership must achieve excellence across sales, service and customer support by earning Ford's "President's Award", "Ford 100Club Award", and "Premier Club Award" in the same calendar year.
"It's my great pleasure to present Sarasota Ford with this prestigious award," said Elena Ford,Chief Customer Experience Officer, Ford Motor Company. "They are among the relative few dealers in the country that win Ford's highest honor each year. It's a real testament to the wonderful team at Sarasota Ford who work hard every day to serve their customers and local community with honesty, expertise and care."
In 2019, there were only 35 "Ford Triple Crown Award" winners nationwide (approx. 1% ofFord dealers) and just three Ford dealerships winning the Ford's top honor in the State ofFlorida.
"It is an honor to have our dealership recognized as one of the top Ford dealers in the country" said Matt Buchanan, Operating Partner of Sarasota Ford. "Ford's Triple CrownAward is difficult to earn, but all credit goes to both our incredible team of customer-first employees and to our customers who place their trust in us to provide their transportation needs by purchasing and servicing their vehicles at our store."
About Sarasota Ford:
Sarasota Ford, operating since 1995, employs 190 individuals in the Sarasota-ManateeCounty region.
In addition to focusing on sales, service and parts, Sarasota Ford takes pride in giving back to the local community by donating time, money and resources to area schools, community organizations, and charitable causes through its ongoing "One Community, One Team"campaign.
Learn more about Sarasota Ford at: www.SarasotaFord.com
Follow along with the "One Community, One Team" campaign at:
www.1Community1Team.com